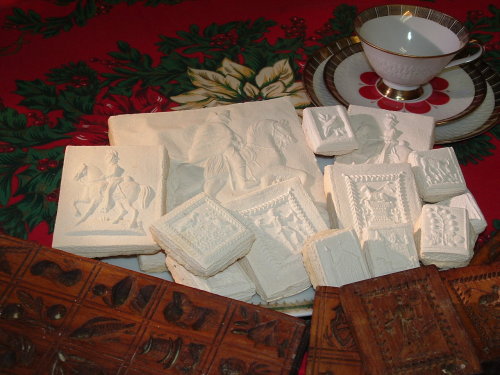 Order your Holiday Cookies Today!!

Anise Springerle Cookies
Two pounds of Original Springerle $29.80 plus shipping/handling
*********************************************************************************************

Kirschwasser Cherry Springerle Cookies
We are also offering our Kirshwasser (cherry flavored) Springerle cookies.
Two pounds of Kirschwasser Springerle $29.80 plus shipping/handling
******************************************************************************
Pfeffernuss
Two pounds of pfeffernuss $29.80 plus shipping/handling
******************************************************************************
Combo Order
If you like a little variety, you can now get your cookies in a combo pack. Choose from 4 Combo options (2 lb. combo is $29.80 plus s/h and the 3 lb. combo is $44.70 plus s/h)
-
Thank you to all our wonderful customers for always supporting this small business.
We wouldn't be here without you!

German Springerle cookies that have been a big hit with our customers for over 50 years.

Good Anise Springerles are very hard to find anywhere and my customers order from far away places to buy this traditional German Christmas treat in the months before Christmas. In the past people made their own Springerle cookies but this time and labor intensive cookie makes it difficult for most people to produce their own Springerle.

Our Springerle are made of a century old recipe. We use nothing but the best ingredients like cake flour, powdered sugar, fresh eggs, vanilla, salt, hartshorn and flavors like anis oil and anis seeds. We combine sugar and eggs and heat it under constant beating to obtain a very fluffy batter. After adding the flour, the dough becomes smooth and has to rest. The dough will be rolled out to approximately 1 cm. We use many of our century old hand carved historic wooden molds and hand press them into the dough. After cutting out the dough according to the mold size the cookies are placed on a buttered sheet pan to dry out over night. A classic Springerle will be very white on top and have a golden brown bottom. The beautiful design of each cookie is a reflection of the cookie mold the baker uses. Baking Springerle is not simply producing something quite yummy to munch on during Christmas time - oh no!!! Springerle baking is a BAKING PHILOSOPHY!

We use many sizes of Springerle molds from very small to large. Most of our molds are very old, especially the larger sizes. Sometimes people buy the larger sizes and most elaborate Springerle cookies to save and use them as wall decoration. The cookie can even be painted with food colors. Since Springerle cookies virtually do not contain any fat they will very fast dry out and may become hard as rock. To retain moisture in the cookie they should be put in a container with an apple and therefore will not dry out as fast. Many Springerle gourmets believe in storing the cookies for a couple of weeks to enhance their flavor. At its best is the Springerle cookie after three to four weeks of storage. Many knowledgeable Springerle cookie gourmet enjoys their cookie by dipping it for a short time in their coffee.

The history of the Springerle cookie goes back to the early middle ages. It seems that the Schwabian region of southern Germany, Austria, Switzerland, and Elsass in France are the birthplace of this unusual treat. In the early years of the cookie's history each bakery had to carve their own wooden molds and so a 'one of a kind' variety of beautiful carved Springerle molds exists today. Traditionally these molds could be carved in any subject matter that the carver was thinking of or needed reaching from flower motives to animals to an endless variety of designs and occasions. The most elaborate and detailed carvings are highly sought collector items that now are exhibited in museums around the world. Even today families treasure their Springerle molds and pass them on from generation to generation. The themes underwent changes. In the 1400s religious scenes were preferred. In the 1700s the molds became smaller and corners were rounded off. The details were carved with delicate details.

During the early 1800s molds presented a more dreamy style of happiness, friendship and romantic scenes. In the 1900s the designs of many of the family Springerle molds became fairly simple. Even today you can purchase new Springerle molds historically carved in wood. The usual mold is flat and square and has one, two, four, or eight hand carved pictures.

The name Springerle may come from the way the cookie is baked and during the bakery process the dough will rise (spring) to almost double the heights. The Springerle is a charm for happiness. In the past it was custom to give Springerle cookies as gifts at Christmas and New Year.

We also make Springerle cookies for weddings and other special occasions on special order throughout the year. They make very unusual table gifts. Please inquire.